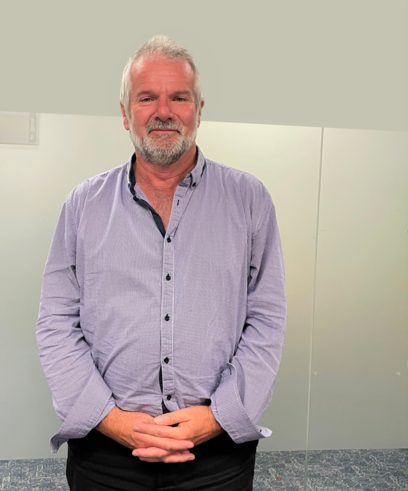 Meet Reg Pennells, Integrated Services Coordinator – Housing at the Ministry of Social Development, and valued member of the Housing First team
Reg Pennells has been working alongside Housing First Ōtautahi since it was launched in 2018. As an Integrated Services Coordinator (Housing) at the Ministry of Social Development, he facilitates a range of Work and Income services for kaewa.
This can include assistance to obtain ID documents, getting kaewa on to the Housing Register, and setting up benefit support.
Having no ID is a common barrier to receiving support for people experiencing homelessness and being on the register for public housing is required for Housing First to be able to match them to a house. Depending on personal circumstances, kaewa will be eligible for different benefits and payments, and Reg conducts a thorough assessment to ensure they don't miss out on the Work and Income assistance they are entitled to receive.
Reg is in contact with Housing First staff daily and works closely with keyworkers, peer support workers and kaewa. "I've got 40 to 50 [kaewa] who are regular contacts for me," Reg says. He adds that kaewa are not required to engage with him: "It's their choice. I'm here if they need me."
He notes that every day is different depending on the needs of kaewa, peer support and keyworkers. When a kaewa is first referred to Housing First, Reg will work with a Housing Specialist to determine if they meet the criteria for assistance. If they don't qualify, he will see what steps can be taken to provide them with some support, which could include getting them onto to the housing register or setting up benefit assistance.
Reg prefers to meet with kaewa face-to-face and believes that this type of interaction is key to fostering understanding and trust.
When asked about the persistent stereotypes associated with people experiencing homelessness, Reg puts it down to a lack of understanding. "I think that's why I like to meet them, get their story… they all have back stories."
"I always say you've got to listen to stories. There's lots of previous trauma (among kaewa); some have lost wives or kids. Sometimes they just want a chat," he says.
Reg values highly the settling in assistance Housing First provides to kaewa and has seen first-hand how moving into a house ready with furniture and essential items can make all the difference.
Over the years of working with Housing First kaewa, Reg has seen many highs and lows, including the noteworthy journeys of kaewa who were housed when the programme was launched in 2018 and who have now been in their homes for three years. To have a house and a place to call their own has enabled them to feel connected to society once again.
The simple act of extending hospitality to visitors is impossible for a homeless person, exacerbating feelings of isolation and disconnection. Reg remembers one kaewa who recounted becoming tearful when they were able to have family visit them in their own home again. "These are the things we don't think of in our daily lives, the little things that can mean so much to someone who gets housed," he says.
Of course, it's not always happy stories, and the nature of the work is challenging. Accepting assistance and establishing trust and understanding can be hard for some kaewa; "With some it's harder to even get in the door. But we need to get in the door. We need to try and elicit change somehow."
"Hence the model is long-term. It's about reminding [kaewa] they are worth supporting and that we are here for them. We know things will happen, but our job is to try to keep them from going back on the street."
Reg credits Housing First key and peer support workers as the ones making real change for kaewa; "It's the [key and peer support] workers, I'm just the player in the background. And of course, the kaewa - they're the ones who have to want the change for themselves"
Housing First Team Leader Nic Fleming describes Reg as invaluable to her team. "Without him Housing First would have delays in completing so many of the required MSD forms and processes. It's really important that we have the right people working with us and our kaewa. Reg cares about people, he understands the difficulties with living on the streets, and he is part of making homelessness brief, rare, and non-recurring in Christchurch"