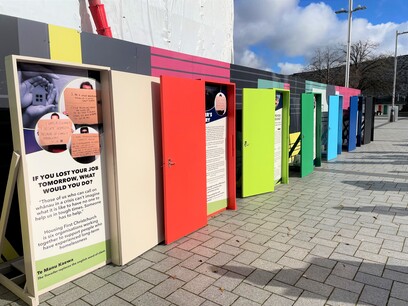 World Homeless Day 2021
World Homeless Day is observed annually on the 10th of October every year. The purpose of the day is to draw attention to people who experience homelessness and provide opportunities for the community to get involved in responding to homelessness, while taking advantage of the stage an 'international day' provides. Our 2021 World Homeless Day event saw people engage in meaningful discussions about homelessness and the stigmas associated with it.
"Growing awareness that homelessness is something that could happen to anyone is so important. World Homeless Day is about educating the public on homelessness issues in their own city and celebrating the services that provide support" says Housing First Manager Nic Fleming.
"7 Doors to Ending Homelessness" was on display in Cathedral Square and the Christchurch City Council foyer in the week following. The interactive exhibition includes 7 doors that can be opened to reveal the stories of Housing First Kaewa (clients), the perspectives of Housing First collaborative partners and staff, and the ways in which people can reduce stigma associated with homelessness.